Well THIS was certainly a surprise! Back in 1985 when I was 16 years old, I saw a (killer) show by the legendary Necros at the Outhouse in Lawrence KS. It was a cold night, the club was new and the whole thing seemed to be sort of a last minute booking, all of which I assume helps to explain the turnout — probably under 50.
At the time I published a little punk rock fanzine called Room 101, so before they played the Necros and I crawled into their van to do a quick interview. I didn't really have anything prepared, but they were all totally cool guys which made it easy. We chatted it up a bit about their tour, their new album, where they were headed musically — you know, basically all the stuff you'd expect to be on the minds of a buncha punk rock dudes in the mid 80's.
Then, after it was over, I thanked them for their time, they climbed on stage and delivered a fantastically rocking set, I published the interview in my ninth issue (alongside one with Keith Morris and Greg Hetson of the Circle Jerks), and we all moved on with our lives.
Flash-forward to 30 years later where, seemingly out of nowhere, a fantastic soundboard recording of the Necros set that night has apparently turned up. How do I know this? Because one day I'm contacted by Jett Plastic Recordings, an independent record label based in Detroit that specializes in releasing music on analog formats. They're putting out a limited edition vinyl package of the show, and somehow the band (or at least lead singer Barry Henssler) actually remembered me from that night — can my interview be included as a bonus with the upcoming LP?
Well OBVIOUSLY I said yes — I mean holy crap, how cool is that? Jett Plastic put out three different variations (Blood red vinyl, "Von Munz" Test Pressing Edition, and "Broke, or Made Better" variant), and also licensed it off to Burger Records for a cassette release.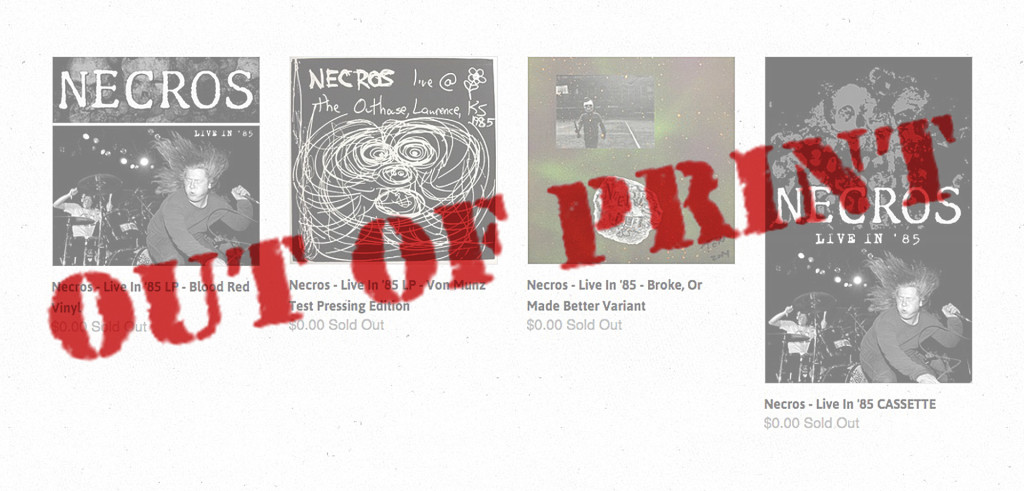 Naturally everything sold out in like 5 minutes, so what the hell — here's an online version of the interview I did with the Necros that night. I know it'll be no substitute for the music (which I should note is still available for digital download on Bandcamp), but it's the best I can offer.